2022 Annual Appeal
Good things come from the Bronx! Help inspire future artists.
No team members yet, be the first!
Story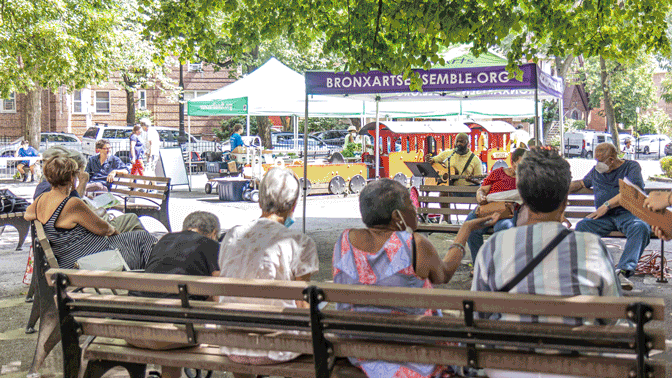 Thanks to dedicated friends like you, Bronx Arts Ensemble has grown, enabling performances in all Bronx communities and citywide. Our program initiatives promote critical consciousness, build community, and motivate individuals to prompt social change. While we have all navigated the ever-changing world we live in, Bronx Arts Ensemble is grateful for the continued privilege of bringing its music performances and arts education to Bronx communities during the past 50 years.

"BAE is a big institution in a borough that has artistically and creatively contributed to its neighborhoods and the nation," says Pulitzer Prize winning composer Tania León, as relayed in BAE's feature article in Chamber Music America Magazine, Fall 2022.

Why should you support a unique and community building arts organization like Bronx Arts Ensemble?


PERFORMING ARTS

By the end of 2022, we will provide free concerts to an estimated 20,000 Bronx adults and youth, building community & brighter futures.


Since 2021, BAE continues to grow its capacity through exciting collaborative projects with major institutions like the New York Philharmonic ("Honor and Praise: Celebrating the influence of the African Diaspora on Global Culture") & the Metropolitan Opera ("RA, Songs of the Past, Voices of the Future").



ARTS EDUCATION

Despite the academic challenges and threats to arts access that many students faced during the 2021-22 school year, we sustained our mission of bringing arts education to Bronx students by providing 2,500 - 3,000 school-age children with in-school & after-school arts courses, employing 52 Teaching Artists.


We continue cultivating meaningful relationships in the Bronx to further serve our community through longstanding partnerships with the NYC Dept. of Education, Bronx House & Riverdale Neighborhood House, and other vital community centers.
BAE's performances and arts education courses offer exposure to music & educational curricula spanning from Western Classical traditions to many different cultures. The greatest gift we can give to Bronx communities is to bring music and art to Bronx residents that stimulates learning, creativity, and aspiration.

Please consider a gift today that provides year-round support for BAE initiatives.


Thank you again for being a part of our community!