Pre-order the book by clicking here
OR 
Purchase a launch party ticket (includes 2 guests) and receive an 11x14 signed art print + a signed copy of the book = $111
Or, donate whatever amount feels right to you.
---
Face your shit?
What even is my shit?
Oh, shit!
This is an AR-interactive art book illustrating my journey of healing by looking at the things no one (including you) really wants to see.
However it really is more than a book, it is a movement.

My name is Meredith Ochoa and I'm ANOTHER F*#%ING ARTIST, with a mission. My mission is to show others how to face their pain and see themselves for who they really are. I developed this mission from facing my own debilitating pain every month dealing with Endometriosis for over 17 years. After surgery, crossing over to the other side, and dying from the excruciating pain one too many times, I began to unravel all of the medical lies I had been told and educated myself on how women's hormone's actually work and I healed myself.
Almost everyone has heard of "a sketch a day" or "everyday" projects like the crypto art record-breaking sale of Beeple's Everydays: The First 5000 days, in which Beeple created an image from start to finish every day for thirteen years. Most of the western world looks at completeness in terms of the 24-hour circadian clock— or hormonally speaking, "the man's clock." Testosterone is highest in the morning—notice how we begin work around 9:00 a.m.—and then begins to drop off in the evening around 5:00 p.m. Hence, the 9-to-5 workday.
Now, nothing against the male biological clock, but the timing of our world is run in a way that's pretty one-sided, benefiting testosterone, and they have done a great job at leveraging and optimizing their biology. A short-circuit battery (male) compared to a long-circuit battery (female), neither one being better, but different. Within the less familiar infradian rhythm clock (your monthly cycle) for women, completeness lies within every phase, a 28-day series of 4 phases that cyclically repeats: Follicular, Ovulatory, Luteal, and Menstrual. Similar to the cycles of the seasons and the earth, very few things in nature repeat the same thing every day.
The contrast of these ideas, which I learned about in my quest for answers to heal my debilitating endometriosis pain became the inspiration for my 'Every Phase' series, which I began in April 2021. The series illustrates how I healed myself with the lesser-known female infradian rhythm 28-day clock in contrast to the masculine, 24-hour clock or "every day" lifestyle we follow in modern life. So just like Beeple's record-breaking NFT project, Everydays: The First 5000 Days—I decided to create a piece of art from start to completion, not every day, but every phase that will continue for the next thirteen years (approximately five-thousand days). The accompanying art describes the different brain and body chemistry of what's occurring during that particular phase.  You can follow the ongoing series here.
I have decided to self-publish this series as a printed art book with Augmented Reality (AR) interaction, marrying both the physical & digital worlds. My first book (launching this Fall) will capture the first year and I have very appropriately titled it, Face your Shit, Heal yourself. In addition to the book, I am also launching a Fall 2022 Podcast (same title as the book) to help other women dealing with 'chronic' pain and hormonal imbalances by introducing some of the experts and practices that helped me achieve what I thought was impossible.
What fueled this inspiration? Well, about 17 years of pain.

---
THE "WHY" BEHIND THIS BOOK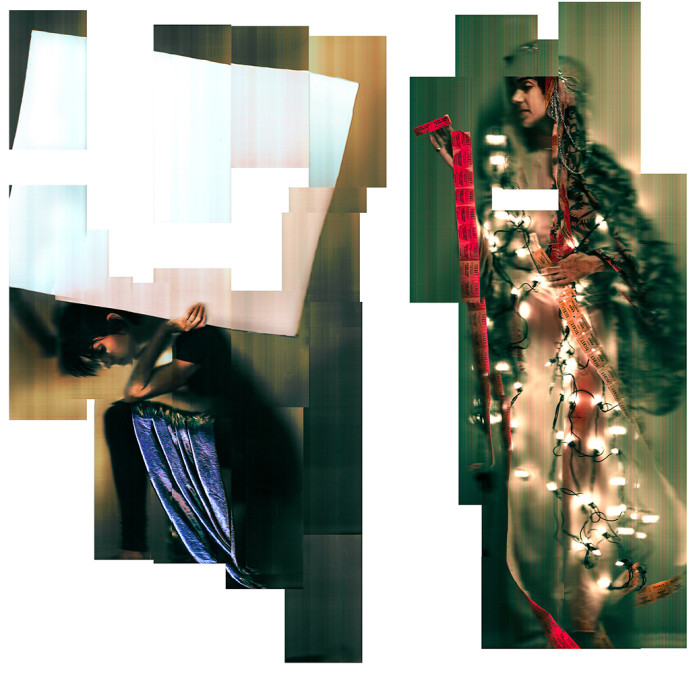 Every 28 days, since around 14 years old, I have had debilitating menstrual pain. I have crossed over to the other side and returned, I have woken up in pools of sweat and blood, and I have gone unconscious due to the shock from the writhing, knife-bending, piercing stabs of the cramps. I usually would have to go to the Emergency room, when I could afford it. I have had surgery, been on multiple medications, birth controls, countless doctors who have said it's all in my head, to just have a baby and it will go away--all of the usual medical sales pitches that turned out to be completely false.
Basically, I know what hell looks like. I have visited it every 28 days--the prison of Endometriosis. Until Spring 2020, when I realized that I held the key to that prison, unlocked the door and healed myself. I healed a chronic condition with my mindset, diet & lifestyle--what most western doctors deemed 'impossible', I did it anyway. I educated myself on what we eat and how it impacts our hormones, revealing what endo truly was so that I could see it clearly and leverage my biology from being my weakness to being my power source. I have had the most generous & caring pelvic floor physical therapist, sex therapist & powerful health reading material to guide and help me get to where I am today. I will be forever grateful for them. However, it's ultimately because of my own willingness to look at the inconvenient truths, that I found the person I really needed to get me through it---myself.
I am thankful to all of the doctors who called me crazy because of their own lack of knowledge. I am thankful for my sexual abuse & trauma. It isn't until you actually become grateful for something, that you truly have power over it. They really are the compressed coals that have become gems in my crown. If I did have their help, I would have been denied the absolute privilege that it is to discover this power on your own. And I wouldn't be starting this series. In no way am I diminishing the pain of what I have gone through, but rather celebrating the makings of the absolute empowerment I have now, because of my willingness to look.
True freedom is not given, it is discovered, and claimed. It is a choice. It's the kind no one can take away from you because it's completely yours. It's only in hindsight that we realize all of those seemingly inconvenient things are actually benefiting us if we let them. I realized that nothing happens that doesn't benefit me. It's not a lie you tell yourself, but an available awareness & reality. I kept the desire and I gave up the struggle, and my wish is for it to spread to all women dealing with endo.
---
Other Ways You Can Help
Even if you can't contribute, that doesn't mean you can't help:
- Share this campaign and why you support it and hashtag #FYSHY
- Share images from the Every Phase series and why you're drawn to them with hashtag #everydaytoeveryphase
- Share any of the videos/content you see on this page either offline or online
- The best compliment you can give me is a referral. Refer your friends, colleagues or family to my art website or photo portfolio website where they can contact me.
And that's all there is to it.